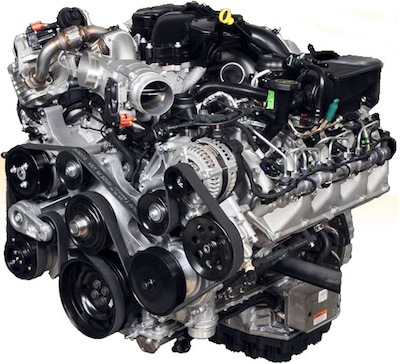 Inherent problems with 6.0 Liter Diesel Engines with EGR (Exhaust Gas Recirculation) Systems
The EGR was originally made for boats, but truck manufacturers started to put them in their power stroke engines to try and reduce combustion temperatures.
The issue is that the EGR systems fail and cause pinging, hard starts, rough idle, and misfirings. And most of these issues are related to the EGR valve and its inability to continue to function under the high temperatures and pressure. In addition, broken EGR valves, cause exhaust leaks that harm other parts of the engine.
The EGR valve is an electronically controlled valve that controls the flow of exhaust gas into the intake manifold. The EGR valve fails due to carbon build up on the valve or it can fail electronically. When it goes bad, it can cause black smoke, loss of power, no start and a fluttering noise.

Several class action lawsuits have been filed against the Ford Motor Company, Inc. and Navistar, Inc. by owners and lessees of Ford F250 / F350 Super Duty trucks and Excursion vehicles have alleged that the Ford 6L Power Stroke Diesel Engines suffer EGR failure.
Cerma Engine Treatment for Diesel is the first place to start. Cerma will reduce the operating temperature inside the engine, and lubricate the EGR valve properly. After Cerma Engine Treatment, at your next oil change interval, switch out to CERMAX Motor Oil for continued protection against EGR failure.
Info on one of the lawsuits - CLICK HERE
Info from aa1car.com on the EGR system and problems - CLICK HERE
Check out what we can do with our 6.0 Liter Diesel with EGR System in the video below. When we purchased this vehicle, it was barely running due to EGR failure.