EVIDENCE of Efficacy... usher the new technology in!
OLD technology (non cerma motor oil) uses detergents, and attempts to keep carbon in solution (emulsified). This suspended carbon is way too small to be harvested by even the best of over the counter oil filters -- any brand. None of them filter finer than 40-45 microns.

NEW technology exclusive to CERMA uses among others things CARBON GUARD. This causes carbon to cling to itself in the oil causing the oil to clump together. What this does is allow the carbon to be trapped by filter media.

TO SEE CARBON GUARD WORK... here you go:

We removed the oil filter, dumped the innards, and removed the actual surgical stainless filter assembly. We then used chlorinated brake fluid cleaner, starting from the top and working our way around and down. This process cleans the clung carbon off the filter and out, and causes the oil to pile up at the magnetic base of the unit. Picture of cleaner and stainless steel filter assembly, and picture of the spray patter below.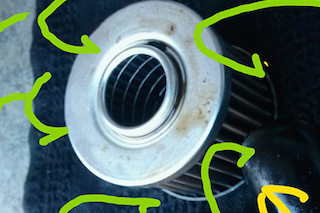 Look what happens, CARBON piling up before your eyes! Picture of the carbon clumped carbon deposits caught in the filter assembly and a close up shot below:

ONLY CERMA can do this... you standard oil people have all this garbage floating around, building up and sticking on your innards.

No wonder my internals are classified as NEW, by Hyundai techs at 50K.