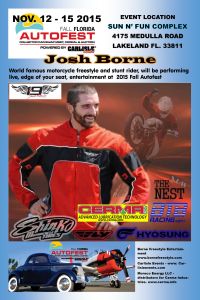 Cerma Attends Auto Fest with Josh Borne
Josh - "CERMA IS POSITIVELY AMAZING!"
Josh Borne is a championship freestyle competition performer, a premier professional freestyle extreme athlete, and a world renowned competitor on the XDL Championship Sportbike Freestyle Series and multiple other circuits. Borne has traveled across the nation and around the globe showcasing his high energy talents to crowds of all ages.