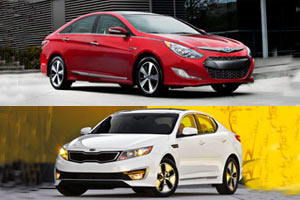 Welcome Hyundai Sonata and Kia Optima Owners!
For the latest update on the Sonata and Optima forum - See Below.
Excepts from the forum:
"I have 99 miles on the engine treatment I can report less engine noise on cold starts and has really quieted the hpfp a lot compared be4 treatment. The engine as a whole has less operating noise as of right now. I'm not gonna speculate on if I am making more but , the power delivery seems smoother."
"150 miles on treatment . I must say the idle is smoother, start ups are quieter as well."
"I got the performance package which includes the turbo treatment. I'm on full cerma 5w40 oil now. I can tell you that turbo seems to spool quicker at lower rpm's, and the engine vibration has smooth out, and she feels more responsive."

Specific Instructions for those wishing to follow the correct protocol for adding Cerma to the engine are below.

The Cerma Protocol for Turbo Engines:

1. If your engine has less than 30,000 miles, add only 1oz of the Engine Treatment to the engine oil. If 30,000 plus miles then add 2oz. To add to the engine oil, best method is to add when engine is hot and while it is running at idle. If blow back is present, shut off engine, add treatment to oil and start engine immediately. After adding, do not shut off vehicle. Idle at 2000 rpms for 2 to 3 minutes and then drive car for a minimum of 15 to 20 minutes. It is preferred to drive in city stop and go traffic for the first 10 minutes, then freeway or high speed driving for 10 minutes. This is required as Cerma needs to have all rpm ranges driven to provide proper distribution.

2. Put a minimum of 1500 miles after adding engine treatment before next step.

3. Add 1oz of Turbo Nano to hot engine oil. Drive as normal.

4. Put a minimum of 1000 miles after adding Turbo Nano treatment before next step.

5. Change oil using Cerma or CERMAX Motor Oil or oil of your choice. If you are not using Cerma or CERMAX Motor Oil at time of change, then you can add the remaining Nano treatment to the new motor oil. If using Cerma (DO NOT ADD THE REMAINING NANO TREATMENT TO NEW Cerma or CermaX Oil)

Your part of the process is now complete. Over the next 90 days of driving, the Cerma process will complete its process on its own.
Note: It should be noted that MORE is NOT better. The under 30,000 mile engine protocol is based on over 13 years of working with different engines. Follow instructions to the letter for best results! If you have specific needs or want to clarify your application please contact Cerma Tech Support: John Murray at 310-617-5757, he will be happy to assist you in your use of Cerma products.

Other Treatments to consider...

TRANSMISSION: Transmission Treatments, both automatic and manual, add entire bottle of Cerma treatment to your fluids, no need to drain any fluids, just add to existing levels.
POWER STEERING: Power Steering Treatments, add entire treatment as directed on bottle.
FUEL: Fuel Treatments, follow instructions on bottle. New 2oz Intro Size available!

For best value on purchasing Cerma for your vehicle, choose one of our Performance Packages Savings - CLICK HERE
For the latest update on the Sonata and Optima forum - CLICK HERE