Browse through Testimonials. Any questions, feel free to contact us.
Newest to Oldest -

Click Here

to go to the Testimonial List View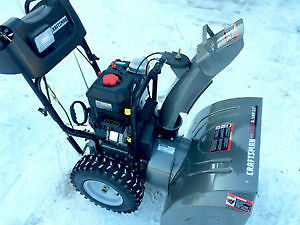 Just prior to winter in 2012, I used 1/3 an ounce of Cerma engine treatment in my 1999 Craftsman snow blower. In the past it was necessary to have the choke on and to let it run a bit before using, especially in really cold weather. Even at that, it sometimes took a couple attempts before it continued running enough to turn the choke off.

After treating it, I went out in minus 25 degrees Fahrenheit and just pulled on it and it started right away, without putting the choke on. Big difference! That is because the compression is higher now and with Cerma in the metal, the pistons move more freely. Easy moving pistons, and more compression, mean cold starts become easier. This is the same for any size engine and is especially relevant to our winter climate in Canada. For the outdoor enthusiasts it means this is a great treatment for their ATV's in the summer and their Skidoos in the winter.

Darrell Hails - Grimsby, Ontario
1999 Craftsman 5 H.P., 22 inch Dual Stage Snow Blower, Model&nbspRead more
1999 Craftsman 5 H.P., 22 inch Dual Stage Snow Blower, Model C950-52105-1
Thursday, October 31, 2013
Note on Testimonials
In accordance with the FTC guidelines concerning use of endorsements and testimonials in advertising, you should be aware of the following:

• Testimonials displayed are given verbatim except for correction of grammatical or typing errors. Some have been shortened where the testimonial was lengthy or portions were repetitive.

• Customer testimonials received are individual experiences by persons who have used our products, and the effectiveness of our products varies depending on each customer's situation.

• Testimonials and case histories reflect individual results and Cermastore.com does not assert that they are typical results you should expect to achieve.

Note: All Cerma products are backed by a 100% purchase price warranty, if you do not think you have received your monies worth in using our products, contact us.