Browse through Testimonials. Any questions, feel free to contact us.
Newest to Oldest -

Click Here

to go to the Testimonial List View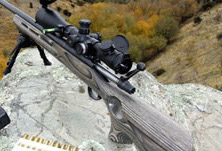 I have been using Cerma products for close to two years now in my all my vehicles, tractors, excavator and dump truck. I am totally impressed with all of the products! As a result of my confidence in these products, I thought I would try the firearm foam and grease in my rifles that I use each year shooting sage rats. In late spring each year, I shoot as many as 1000 rounds through each of my 4 rifles that I take with me during this multiple day shoot. The first thing that caught my attention is when I used the foam in the barrel of my Ruger .204 rifle after I had done a thorough cleaning the week before. I was amazed at how much carbon came out of the barrel when I ran a patch through to remove the foam!! It was as if I had never cleaned the barrel. I used the grease on the bolt and was impressed again. In the past after 200 rounds through my bolt action .204, I would have to remove the bolt and clean the action as it would dry out and not chamber a new round properly. Last spring, I shot&nbspRead more
Ruger .204 Rifle
Tuesday, February 21, 2017
Note on Testimonials
In accordance with the FTC guidelines concerning use of endorsements and testimonials in advertising, you should be aware of the following:

• Testimonials displayed are given verbatim except for correction of grammatical or typing errors. Some have been shortened where the testimonial was lengthy or portions were repetitive.

• Customer testimonials received are individual experiences by persons who have used our products, and the effectiveness of our products varies depending on each customer's situation.

• Testimonials and case histories reflect individual results and Cermastore.com does not assert that they are typical results you should expect to achieve.

Note: All Cerma products are backed by a 100% purchase price warranty, if you do not think you have received your monies worth in using our products, contact us.